Music is the gateway to your Wellbeing. A Songwriting course, open to Teachers, TY Students, Third Level, LCA, CBA & general public of all levels from beginner to advanced. Maria brings her skills and experience from NY, Nashville & LA where she toured and resided for many years. Students will learn how to write, perform, and record their songs giving them a chance to explore hidden talents and to express themselves through words and music. Building confidence & self-awareness.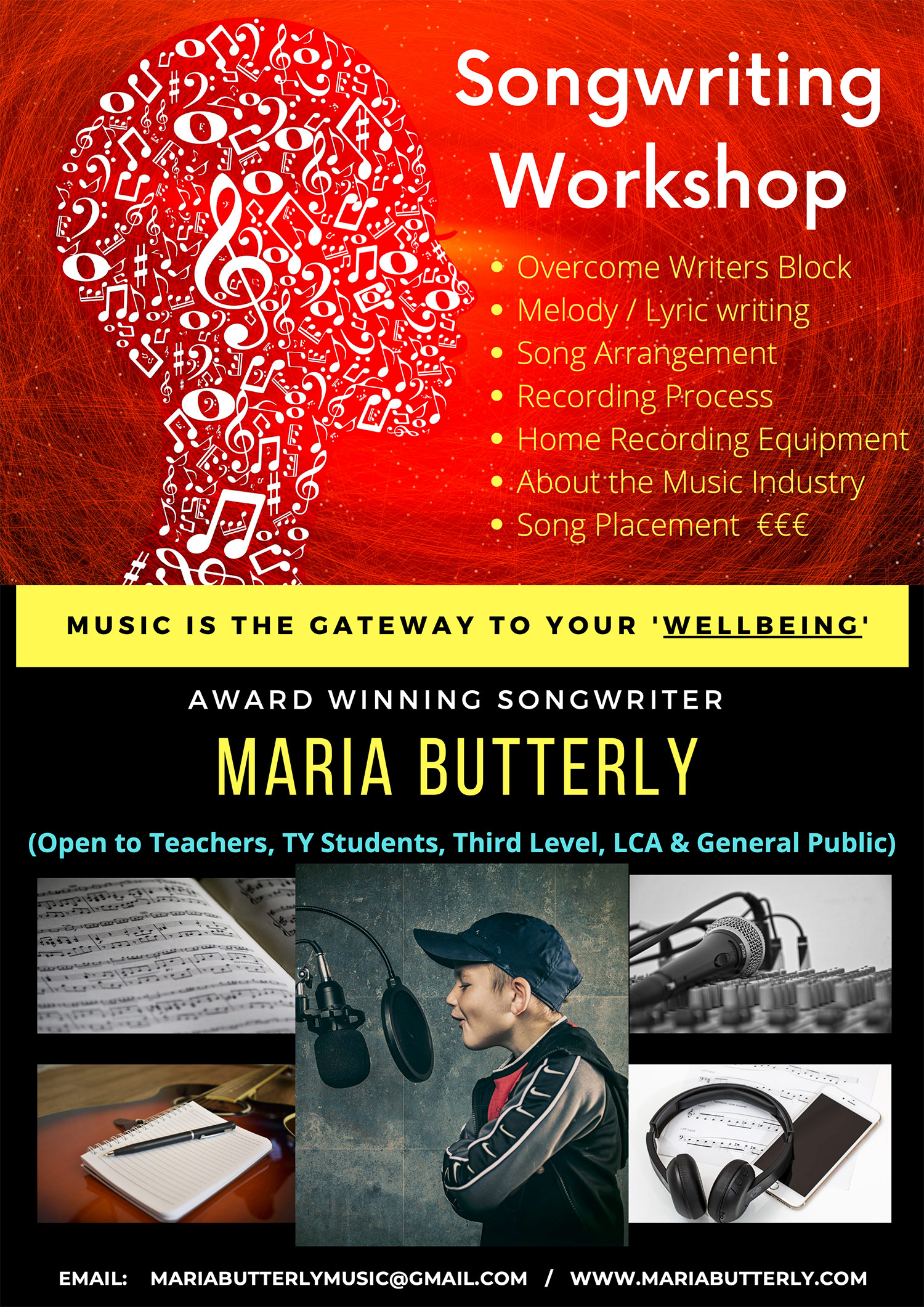 What's covered in the course:
Addressing 'writers block' Simple Exercises & Techniques to unlock 'the mind'
Examine Great Songs, learn what makes their music / songs so good.
Lyric Writing, creating a storyboard, how to tell a story to draw listener in visually, drawing from personal / life experiences and putting thoughts down on paper.
Melody writing, how to create a memorable tune and a good hook (great for self-expression drawing out students creativity).
Song Arrangement/Structure, Learn the Formula for Songwriting, how many lines in a verse, chorus, rhyming the lines  e.g. Verse, Chorus, Verse, Bridge.
The Recording Process, how to Record your Song, using recording technology. Learn about home recording devices and platforms to get you going.
Home Studio – Recording Equipment, what do you need for setting up a little home studio. Getting your work out to the social media platforms, radio.
Music Industry, Song Placement, business of songs, how to monetise your work through Film TV, Games. Market and promote your songs.
Composer & Songwriters networks, society's. So you have a great piece of music!! now where do you go from here??.  It's all about networking and building relationships with people in the business to get doors open.
Workshops are available for groups (minimum of 5) Online and/or Inhouse.
FREE Online Q&A In association with IMC – Home Recording 101
what you need to record music at home
Thursday 16th June, 7:00pm – 8:30pm
Find out more
Personal Song for You
Commission Maria to compose and record a personal themed song or Instrumental piece of music for that Special Occasion, Private or Corporate themed Event. (Wedding, Memorial, Anniversary, Birthday)
Get Your Song Critiqued
Maria has mastered and co-written with top No 1 writers from Nashville 'Kostas Lasarides (What a Cryin Shame – Mavericks), John Charles Quarto (Garth Brooks & Crosby, Stills & Nash) & Charlie McGettigan.
Submit your song online and Maria will help develop your melody, song arrangement, guide your story with lyrics, how to be clever with words and phrasing, Create a hook , the Do's & Don'ts in Songwriting, and what makes a Hit.
Click here for a Song Critique